Planet Of The Apes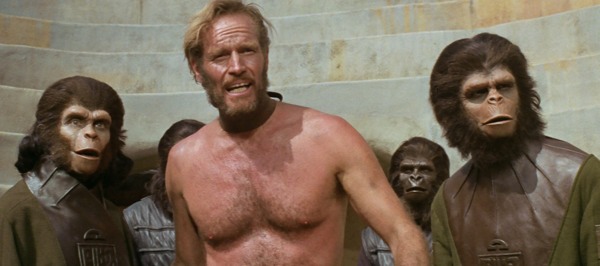 Taylor är en av tre astronauter som låter sig sövas ner i rymden för att vakna upp mycket senare i framtiden. Men något går helt fel och de kraschar på en planet som de genast börjar utforska. Snart upptäcker de att deras egen ras är en underlägsen varelse härskad av massvis av apor som kan tänka och prata precis som människor. Taylor tas tillfånga och hans liv hänger på en skör tråd när vetenskapsmän vill titta i hans hjärna. Men några få apor skyddar honom när de upptäcker att han inte är som de andra fångna människorna på planeten. Snart inser han att han inte kan tala förnuft med de som bestämmer och då blir hans enda möjlighet att fly.
Betyg: 5 av 5
Storslagen film som sin ålder till trots fortfarande imponerar och underhåller som ett av de största äventyren på 60-talet. Klart sevärd!
Längd: 1 h 52 min
Charlton Heston, Roddy McDowall, Kim Hunter m.fl.
(Alternativ titel: "Apornas planet")